first we noticed the dripping. we didn't think much of it. what's a little drip here and there? surely, there were more important things that needed fixing in our house (like our ensuite bathroom shower, that has given us nothing but headache since we moved into our money pit of a house).
but then, we noticed the smell. y'all know what i'm talking about. that dank, old water smell. the situation went very quickly from something we were willing to live with, to something that needed to be fixed. stat.
see, that's the thing with owning a home. there's always something that needs fixing. we have all these things categorized. they range from things we'd like to do (like painting Isabella's room) to things that we'll do sometime soon (like painting the exterior of the house) to things that need to get done. pronto. this under the sink smell became a prime example of this last category.
our faucet is a Moen. guaranteed for life. in theory, this should be an easy one to fix. faucet breaks; Moen replaces. that's how guaranteed for life works. or, this is how it should work. but there's a catch. there's always a catch.
Moen doesn't send a new faucet. they send replacement parts.
while we waited for moen to send us said parts, that we would then have to install ourselves (see? i told you. catch.), the husband decided to dismantle the sink.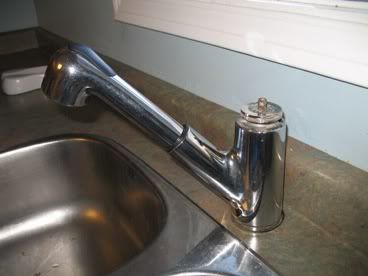 now, i will give the husband credit. he's quite handy around the house. he fits somewhere nicely in between my two fathers - my stepdad, who can't put together IKEA furniture and my dad, who watches HGTV and oh-so-very martha stewart-ly, can somehow build himself a canoe out of a piece of wood. this time, however, we've decided to leave it to the professionals (who, of course, can't come until some time this week).
so, yes, granted, we have no more dripping and awful smell under the sink, but, alas, we also have no running water in our kitchen.
no.running.water.in.our.kitchen
imagine this scenario for a second, will you?
it's not like being without a dishwasher, or a microwave, or even an oven. a sink, friends, it's a disaster. i feel like i'm on Little House on the Prairie or something, where Pa has to go out to the well to fetch us some water. but in our case, it's the husband, going to the laundry room to get the water, but you get the idea. it sucks.
i keep telling my husband, if i have to live without a sink in my kitchen, i should at least be getting granite countertops and stainless steel appliances...

now for your regularly scheduled public service announcements:
if you get a chance, check out my other blog here. and please leave comments. here and there. i love to know who is reading!
and if you haven't already, please sign up at urbanmoms.ca. it's free. and you can win prizes. what kind of mommy doesn't like prizes?
song that's rocking my socks today: Smile by Lily Allen. check it out. you won't be sorry.